English
Brief Portrait English Version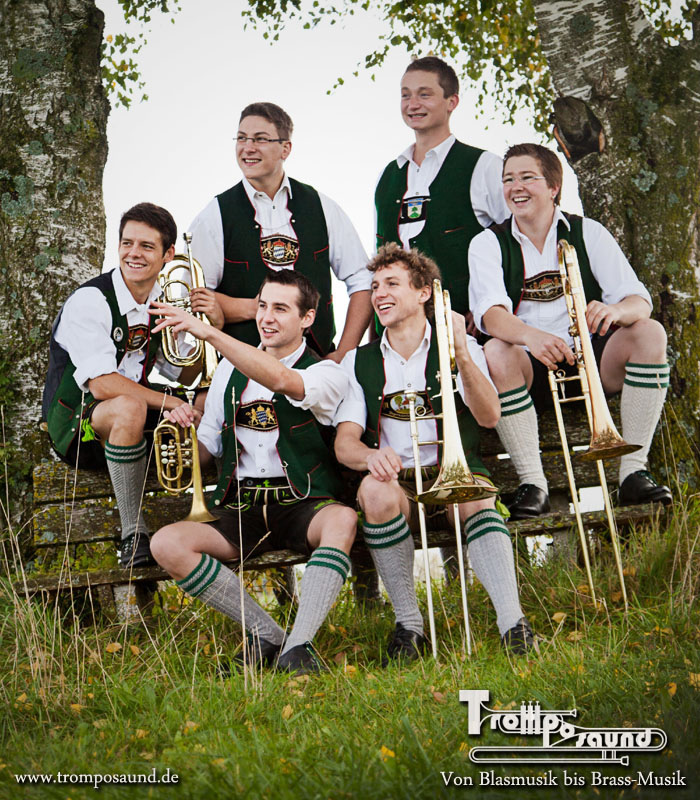 Tromposaund is a Bavarian brass-music group from Munich / Bavaria / Germany!
With a repertoire ranging from traditional brass band music (marches, polkas, waltzes), as well as blues, swing, jazz, ragtime, boogie and modern pieces to surround a variety of events.
From birthday parties to evening entertainment, they play versatile - flexible to suit the occasion and enjoy a variety of guests of young and old alike. Especially for corporate events, evening events and welcome parties, the music is perfectly in order to achieve a positive and relaxed mood, and create a welcoming environment.
Authentic Bavarian customs, costumes and music are spread through traditional songs, funny singing performances and entertaining performances.
Of course in Lederhos'n and in costume. True to their motto: comfortable - snappy - casual
The musicians provide unique mix of brass music and other genres. They combine traditional music with current hits to an interesting program. Recipe for success of the exceptional wind music lineup also include a good portion of humor and a high fun and entertainment factor. After 4 years Tromposaund can look back on many successful performances in Germany and Europe (A, CH, FR, NL). Particular highlights were, inter alia, a birthday party in Amsterdam (Holland) in 2012, a Bavarian evening in Cambrai (France) in 2013 before 2,500 guests, as well as the sold-out concerts own.
Annually about 40 gigs in Germany, as well as invitations to performances at home and abroad confirm the success of the young group.
Profile
music: bavarian - Czech-Moravian - Jazz - Blues - Brass - Boogie - "Schlager" - Hits

setting: 5 musicians - 2 flugelhorns/trumpets, baritone horn, tenor horn, tuba

space conditions: band-stage not nessecary --> 5 chairs are enough

references: Hacker Bräuhaus München, Augustinerbäu, Firmenjubiläum Kupka, ILF

motto: griawig - schmissig - lässig (comfy - racy - easy) From Blasmusik to Brass-Musik!

price: affordable! (upon request,)

contact: direct and friendly contact to audience and organizer!

applications:
pubs, restaurants, beer garden, beer tent, birthday party, dance night, village fair, marquee, work party, launch party, gala, jubilee, congress, exhibition, silver wedding, summer party, street festival, Christmas party, cultural exchange, international Oktoberfest,....
Booking Information
They play in beer tents and open air concerts, at fairs and company parties, weddings or for other special occasions. Tromposaund is a group of 6 musicians: Two Trumpets, baritone horn, tenor horn, a tuba and drumset. A wide range of current pieces and popular melodies make up our repertoire - from Bavarian brass music to standards, rock and roll, Jazz, Blues, and german "Schlager". We are proud to wear our unique bavarian costumes and live our bavarian culture completely authentic.
You can discuss the routine with us in detail beforehand if you have individual wishes.
We are completely flexible and play little partys with 30 people up to big tents with 2000 people and a sound system.
If we've made you curious feel free to contact us!